The fabulous small fry blog hosted a Mama Style link up this week.
I am excited to link up and share my mama style and be inspired by all the stylish mamas out there.
This is our "winter" in Florida.
The weather is pretty much perfection this time of year.
(Ask again in July-my mama style will consist of nothing but bathing suits in this hot, humid climate)
After having Rosie, I quickly realized the convenience of having a few staple wardrobe pieces.
The pieces you just know will work with anything in a hurry and you don't have to think
too hard about matching/putting together the perfect outfit, etc.
For this mama has 5 to 10 minutes of 'getting dressed' time, and then the rest is history.
I have three essential pieces in this Mama Style post.
1. Nude flats 2. Pop of color (pants) 3. Hat
Nude flats are my all time favorite! I wear these just about every day.
I had to make sure all the scuffs and wearing didn't show too much in these pics-
They go with ANYTHING!! I am wishing I bought three pairs to last me forever.
I found
this
darling pair online last night and love them.
I am really loving the look of neon right now. A subtle pop (that sounds too contradicting) but you know what I mean. Not too much, but the perfect amount of brightness added to any simple outfit.
I am a HUGE fan of hats! Most weeks I only get to wash my hair once or twice (if lucky) so hats are my very best friends...I love
this
one from Jcrew. I keep it in my car and put it on whenever I need to. Such a darling accessory and a time saver.
Also comes in handy for a little fun dress up with the babe.
I mean how cute is she in that hat?!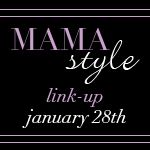 Hat: JCrew- Straw bucket
Top: Forever 21
Pants: Target (Mossimo)
Flats: Forever 21